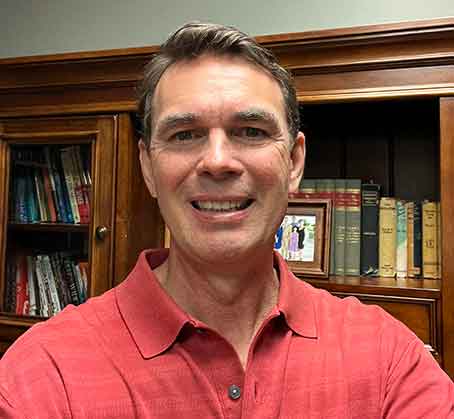 Founding Pastor of GracePointe Baptist Church
Loving God. Loving People. Serving our Community.
---
I grew up a "preacher's kid" in Shreveport, LA and we moved to Hartselle, AL when I was a teenager. My folks were the real deal, so I was fortunate to have such loving and faithful parents. I'm sure I increased their prayer lives during my adolescent years! When my young adult life wasn't working very well, I knew where to turn. With what little faith I had, I began to follow Jesus Christ. For the first time in my life, I had a hunger to read my Bible. I wanted to know Jesus better, learn from Him how to live, and experience God's power to change my life. My faith grew as I began to experience victory over the sin in my life and an increasing love for people.
---
Not long after turning to Christ I couldn't shake a deep stirring in my heart and mind to become a pastor. The thought of doing so scared me to death! Once again, with a small measure of faith, I reluctantly said yes. Oh, the stories I could tell you of God's faithfulness! I have no regrets about that decision and lots of gratitude. One major gratitude has been Angie.
---
Angie and I met on Summer Missions in 1985. We were married before I started to Samford in August of 1986. I graduated from Samford University and she graduated from UAB in 1989. We both graduated from Southwestern Baptist Theological Seminary in December of 1992. During those years I served on staff as a Student Minister at Raleigh Ave. Baptist in Birmingham, AL and Benbrook Baptist in Benbrook, TX.
---
We have five children (Rachel, Robert, Aaron, Riley, & Danni). Our kids are mostly grown now, and we have three grandchildren. Two of our children are adopted and we have also fostered children as well. Our marriage and our family have been very important to us. I've chosen through the years to prioritize my family over the daily demands of pastoral ministry. I have not led my family perfectly, but each one of them knows how much I truly love them.
---
In 1995 our family joined with two other families to start RocketCity Community Church which eventually became CrossPointe Church in Madison. In 1998 we started The Church at Hampton Cove which eventually became Rivertree Church in the Hampton Cove area. In 2007 we came out to the northeast part of our county and started Legacy Baptist Church which eventually merged with Celebration Baptist and relaunched in 2010 as GracePointe Baptist Church.
My Prayer for GracePointe...
I love our faith family called GracePointe! We are not perfect, but we genuinely desire to love God, love each other, and serve our community. We are being transformed by the grace and truth of Jesus Christ. Grace is accepting people where they currently are in their spiritual journey and truth is helping them take another step in knowing and obeying Jesus Christ. My prayer is that we would fulfill our mission of helping every person discover and develop a life-changing relationship with Jesus Christ as we grow together in grace and truth.
Want to worship with us?
Worship with us in person every Sunday Morning at 10 AM. You also have the option of attending our services online at your convenience.
---